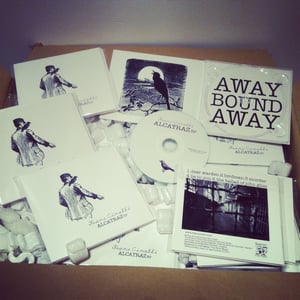 £

4.00 - On Sale
CHOOSE FROM THE DROP DOWN MENU
1. ALCATRAZ EP
2. ALL THREE CDS : THE MARVEL AGE, I HAVE NOT YET BEGUN TO FIGHT & ALCATRAZ
Tracklistings:
THE MARVEL AGE
1. Alchemy
2. Travelling Alone
3. Across The Slipstream
4. Down & Down
5. Blindisded
6. Breakers
7. Animals
8. Blue
9. Driver
10. Leave Here Running
I HAVE NOT YET BEGUN TO FIGHT
1. Shot Of Life
2. Rose garden
3. Abracadabra
4. I'm Your Man
5. Fat Charlie Sings The Blue
6. Fall Into Heaven
7. Passera'
8. A Bigger Picture
9. The Impossible Breaks Free
10. Julius Plays His Winning Ace
THE ALCATRAZ EP
1. Dear Warden
2. Birdman
3. Lie To You
4. Murder
5. The Ballad of John Giles
Five songs inspired by Alcatraz and some of its infamous guests. Defiant, prison outlaw ballads influenced by songwriters Ry Cooder and Mississippi John Hurt wave the flag in this collection about faith, repentance and the indelible human spirit.

US:



UK:

____________________________________
__________________
Click ADD TO CART for Ltd edition CD.